Priva Blue ID
Creating a climate for growth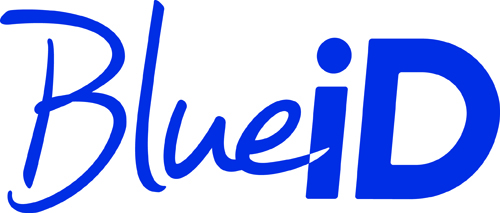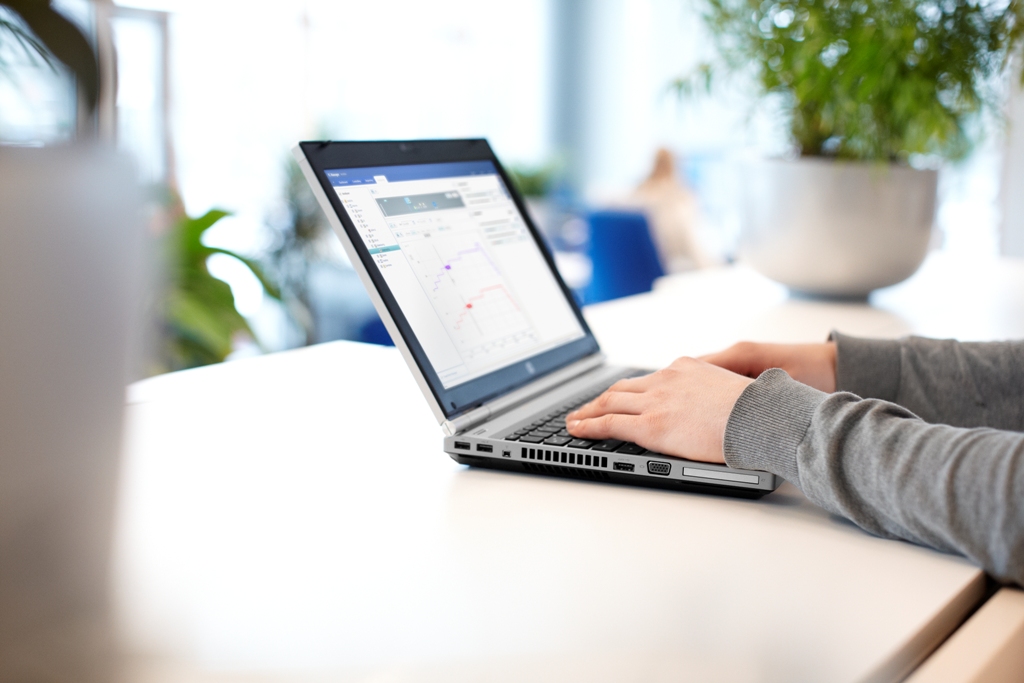 User-friendly, intelligent operating software
The intelligence and user-friendliness of building control software plays a big role in determining to what extent you can get the best from your building(s). A lot of time and energy was therefore devoted to this aspect during the development of Priva Blue ID. In spite of the underlying complexity, the result, in the form of TC Manager, is surprisingly user-friendly.
Ability to operate at any time and from any place
To operate Priva Blue ID, you don't require a special operating unit or operating software, all you need is a computer with an Internet connection and a standard browser. You can use the browser to access the Web controls, which are actually located in the controllers, and you can get started straightaway. This means that you can access and operate the building control system at any time and from anywhere.
Maximum user-friendliness
In the development of Priva Top Control 8, our specialists in the User Experience department really pulled out every stop to make operating the system as easy and as clear as possible for you as the user. Without having to read any text, you can see at a glance, thanks to the use of clear and distinct icons, what functions you are dealing with. This gives you the assurance that you will quickly be able to find your way around the system. Likewise, familiarising other users with the controls is also a piece of cake.
Because you do not need to know which controller controls which system part, you can quickly navigate through the building sections to the setting you wish to view or modify. This is not only easy, but also saves you time.
Comprehensive analysis tools
The widgets on the dashboard give you a complete overview of the status of the system. Would you like to know a little more and analyse the behaviour of the building? Perhaps you might want to analyse the effect of a certain setting on the indoor temperature. Or would you like to view the connection between the indoor and outside temperature? Thanks to clear trend graphs and tables, the building will no longer hold any secrets for you. In TC Manager, you can put together your desired analysis and display mode in no time at all. Whether it is an extensive filtering or a trend graph, you can always save your screen display as a 'view'. The next time, you simply call up this 'view' and the system loads it with the most up-to-date data.
Freedom of choice
The Priva project software is 100% your property. Your complete project database can even be stored entirely on an SD card in the controller. Thanks to this data storage, you always have access to all the relevant project data and you have complete freedom of choice when it comes to selecting a Priva partner to assist you with the servicing and maintenance of your system(s).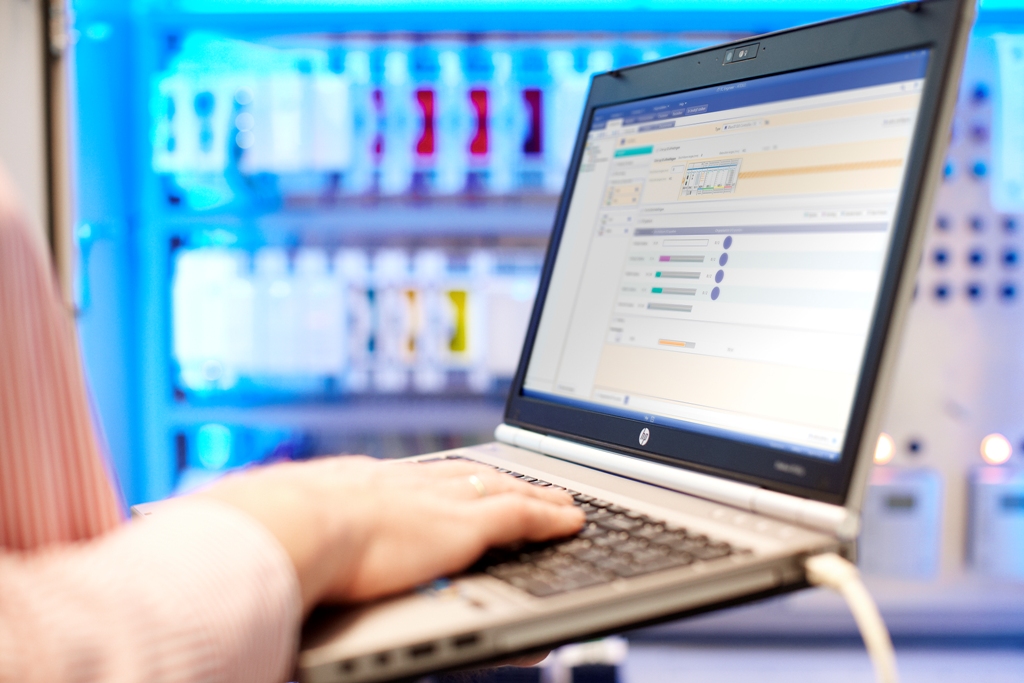 Reliable hardware for reliable building control
For a comfortable indoor climate, it is important that you can have complete trust in your building control system. The hardware in Priva's next generation building control system, the Priva Blue ID, won't let you down. The robustness of the components, the high-quality materials and the meticulous production in the Netherlands guarantee maximum reliability and continuity.
Intelligent design
The hardware consists of a base, on which individual functional modules can be installed. All the mission-critical components are located in these modules. The wiring takes place on the base, which is very robust and insensitive to failures. This intelligent design guarantees maximum operational reliability. In the unlikely event of a failure occurring in a module, that failure will remain restricted to this part of the system. The base is always live, and communication always remains intact. This gives you a guarantee that no domino effect will occur in the overall system. This is of vital importance, especially in environments with critical processes, such as in a hospital or a cleanroom.
Priva Blue ID has been developed in accordance with the 'best fit' principle. Thanks to its modular design, Priva Blue ID is suitable for every application. From a small school to a large hospital. And from a university complex to a data centre.
Secure data storage
Because the data from the system, just like the project database, is securely stored on an SD card, you can be sure that you have all the desired information to hand at all times. The availability of the project software on the controller contributes to a high degree of independence for the end user. It also means that you can choose which Priva Partner you would like to entrust with the servicing and maintenance of your system(s).
Thanks to the extensive data storage capabilities, you will also always have access to a wealth of information for analysis and optimisation purposes.
Independent of field equipment
Because our users place a great deal of value on independence, Priva Blue ID operates independently of field equipment. Priva Blue ID can communicate with a wide range of field bus protocols. This is useful, for instance, during renovation projects. You can renew the system while maintaining the interaction with existing field equipment using different protocols.
Making savings in renovation projects
The message traffic within Priva Blue ID is fully based on IP technology. This makes it possible to access Priva Blue ID any time, anywhere via the Internet, even remotely (via VPN). Priva Blue ID contains an integrated network module, with multiple Ethernet ports available as infrastructure for this IP communication. In addition, this network module also offers Priva 2-wire. This technology, developed by Priva, makes it possible to make almost any twisted-pair cable suitable for IP communication. This allows you to make significant savings when retro-fitting and using existing communication wiring.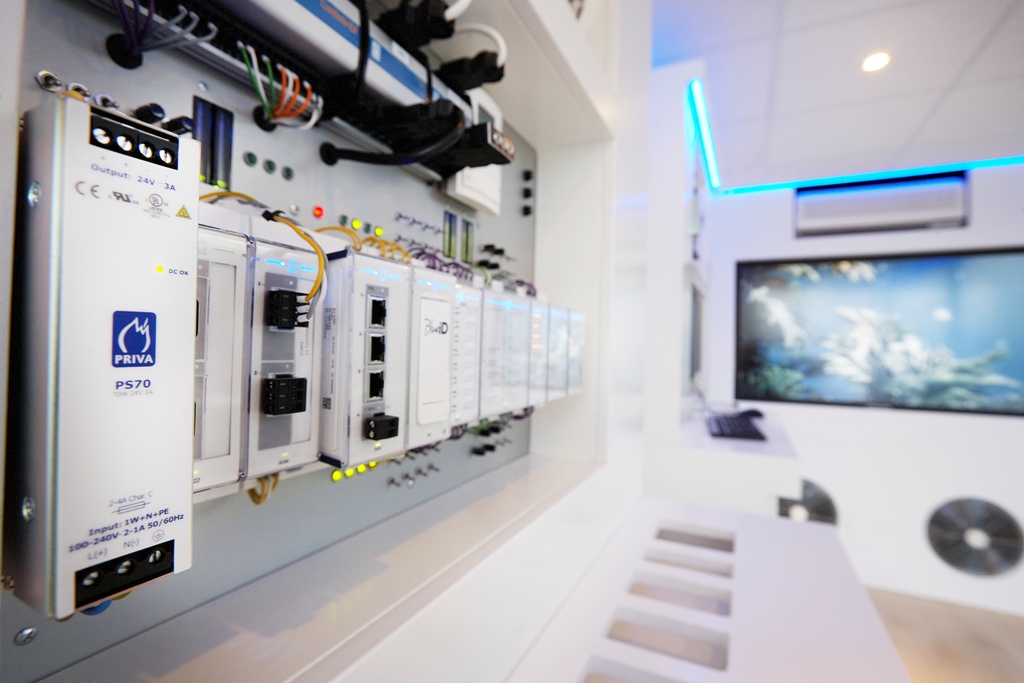 Intuitive operation via capacitive touchscreen
User-friendly operation is crucial for getting the best possible results from a building control system. Both at central level and in the form of a smart local operation of rooms and control panels. As a next generation building control system, Priva Blue ID is therefore also equipped with a state-of-the-art Touchpoint.
High widescreen resolution
Thanks to its beautiful 7″ touchscreen with high widescreen resolution (800x480 pixels), the Priva Blue ID Touchpoint is not only extremely robust, but is also very good-looking. Its capacitive screen allows you to operate a room or control panel in a very intuitive manner. You can navigate very easily through the operating elements by swiping. Unambiguous, clear icons ensure that you can see at a glance what functions you are dealing with. In other words: building control by intuition. All with an optimum design.
Speed and ease
All you need to be able to use a Touchpoint is a Power over Ethernet connection. As soon as the Ethernet cable has been attached between the system and the Touchpoint, the various available operating forms appear automatically on screen, after authentication.
Because the Priva Blue ID Touchpoint is an IP device, it can be connected anywhere within the network and then used for operating project-wide. In other words, speed and ease at their best.
Configuring your own operating scenarios
Every room requires a specific operating scenario. While in a meeting room it may be sufficient to operate only the lights and the heating, in a showroom or a demonstration room, for instance, you may wish to also be able to operate the sun blinds. Or you may wish, with a single touch of the touchscreen, to make sure that everything is made ready in no time at all for your important presentation?
The Priva Blue ID Touchpoint offers you this maximum flexibility. Using TC Manager, building managers can themselves configure all the scenarios they need on the Touchpoint. Thanks to the integration of clear templates in the user interface, you do not need to call upon the assistance of your contractor.